Education Hub of
Northeast Asia
Establishing an international education hub by absorbing various domestic and international educational demands through world-class educational services
Establishing the best education infrastructure in Northeast Asia to promote the Jeju Free International City
Business Overview
Gueok, Bosung, Sinpyeong-ri, Daejeong-eup, Seogwipo-si, Jeju-do
3,791,000㎡
2008 ~ 2021
International schools (7 schools). English language education center, foreign educational institution, residential and commercial facilities, etc.
Approx. 20,000 people (incl. 9,000 students)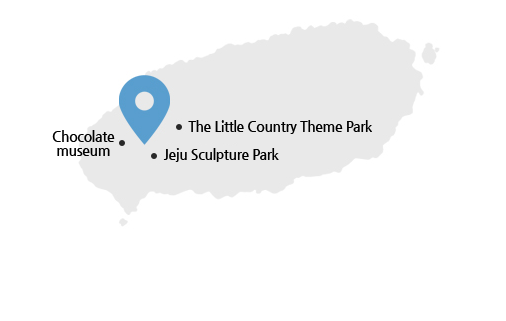 About 40 minutes from Jeju International Airport, 15 minutes from Jungmun Resort
Nearby Attractions like Osulloc, Hanlim Park, Mt. Sanbang and Myths and History Theme Park
Business Introduction
Global Education City Holds the Key for Solution

In the 2000s, many students in elementary, junior high and high schools started to leave the country to study abroad at a fast speed, causing many social issues as students had difficulties in assimilation after return, fathers had to live alone away from their families to make money, and the country had growing trade deficit due to studying overseas. To address the issues, The korean government started the Global Education City project as an one of key national project.
The goal is not only absorbing the demand for studying abroad, but also establishing an international education hub in Northeast Asia.

*Number of students studying abroad: 27,000 in 2001 → 45,000 in 2006
*Balance deficit of studying abroad: $1.06 billion in 2001 → $4.46 billion in 2006

Paths We've Taken

The Global Education City is a residential education city which hosts commercial, residential and public facilities with international schools at the very center. We worked hard to bring in quality schools with a target to attract 3 prestigious private schools from English-speaking countries, and sent letters on investment attraction 4 times to 173 schools around the world and signed memorandum of understanding etc. Finally, 3 schools joined: NLCS of the UK in 2010, BHA of Canada in 2010 and SJA of the US in 2012 which are all currently offering education programs in the Global Education City.

Best Challenge and Best Achievement

We had the renowned private schools from English-speaking countries of the UK, Canada and the US, and started the challenge to be a global hub of education in Northeast Asia. In 2013 when the schools had first graduates, 92.9% of them were early-admitted by prestigious global universities including Cambridge of the UK, and the schools achieved the highest acceptance rate to global universities in Korea. Up until today, most alumni get admitted to by leading universities around the world, continuing the great track record. Around 4,080 students study in the schools now, and a cumulative total of ₩825 billion in balance deficit was saved.

The Future of Global Education City, Global hub of education in Northeast Asia

We plan to attract 3 more international schools. The Global Education City will continue to evolve to be the top-class education city where everyone wants to live for the attractive living conditions and advanced global education system.
Business Timeline
Jeju Island's World-Class Prestigious Schools
NLCS Jeju

http://nlcsjeju.co.kr
•About NLCS Jeju

NLCS has a long history and a successful track record. Our school, NLCS UK, has been known for over 160 years as a prestigious school offering very special education in the UK. We believe that such special education can be provided to students beyond regional barriers. For this reason, NLCS Jeju has become one of the most prestigious international schools not only in Korea but also in Asia.

•UK NLCS Overview

Established in 1850, London, UK
40% of graduates accepted by Oxford or Cambridge Universities every year

Ranked 1st IB School in UK for 14 consecutive years
Recorded IBDP Students Average 40 points↑ for 12 consecutive years

• Accumulated 429 graduates since the first year of 2014
- the world's top 100 university entrance rate : 61%
- the world's top 100 university : Stanford, Oxford, Cambridge, Imperial, Yale, Cornell etc.

At NLCS Jeju, students can develop their confidence and leadership by planning and executing various activities on their own.

- NLCS Principal
33, Global edu-ro 145beon-gil, Daejeong-eup, Seogwipo-si, Jeju-do
Introduction

UK

Opened in 2011 (Sep. 26)

Integrated school (kindergarten, elementary, middle and high school),
Coed boarding school

74 classes

1,508 students (quota)
Grades

Junior School (Nursery ~ Year 6)

Middle School (Year 7 - Year 9)

Upper School (Year 10 - Year 11)

Sixth Form (Year 12 - Year 13)
Curriculum

UK NLCS curriculum,IB Diploma

UK NLCS-Korea Exchange Program for Students

Focusing on the discussion and activities based on the philosopy of UK NLCS curriculum

In-depth learning and critical thinking skills through IGCSE and IBDP

* IBDP(International Baccalaureate Diploma Program) education : IBDP, certified by an International Baccalaureate Organization (IBO), is a globally recognized international standard program in Europe and North America
•Abot BranksomeHall Asiaw

Branksome Hall Asia is an IB World School in Jeju Island, Korea. Branksome Hall Asia is a girls' school with courses from kindergarten to high school, with its first graduates in 2015. Opened in 2012, Branksome Hall Asia is the sister school of Canada's Branksome Hall, which has a history of 114 years and is one of the best boarding schools in the world. Branksome Hall Asia has inherited Branksome Hall's excellent goals, vision, and tradition, and is the latest addition to Korea's emerging international hub in Jeju Island.

•Canada Branksomehall Overview

Established in 1903, Toronto, Canada
Canada's premier girls' private school

All grade IB programs run from kindergarten through grade 12
93% of graduates awarded scholarship for university admission (2010)

• Accumulated 268 graduates since the first year of 2014
- the world's top 100 university entrance rate : 65%
- the world's top 100 university : UCL, Cambridge, Imperial, JohnsHopkins, Cornell, Pennsylvania Univ etc.

At BHA, The C.A.S.E activity allows students to develop leadership and collaboration skills.

- BHA 11th grade Student
234, Global edu-ro, Daejeong-eup, Seogwipo-si, Jeju-do
Introduction

Canada

Opened in 2012 (Oct. 15)

Integrated curriculum for elementary, middle and high school.
Girls' boarding school

60 classes

1,212 students (quota)
Grades

PYP(Primary Years Program, JK prep ~ G5)

MYP(Middle Years Program, G6 ~ G10)

DP(Diploma Program, G11 ~ G12)
Curriculum

Canadian school curriculum, All year IB program

Canada-Korea Exchange Program for Students and Staff

Rigorous academic programs with the school's tradition and philosophy in a state-of-the-art educational environment

Future female leaders by identifying students' potential and cultivating leadership and critical thinking skills
SJA Jeju

http://www.sjajeju.kr
•About SJA Jeju

Established in 2017, St. Johnsbury Academy Jeju represents the Global Boarding School in the United States. Educational City Jeju Island will treat students with respect and courtesy regardless of their nationality, cultural background, or economic factors, in accordance with our successful academic development, academic excellence, and socially recognized and successful educational curriculum.

•US SJA Overview

Established in 1842, Vermont, USA
Selected as an excellent school with the Blue Ribbon School Program by the US Department of Education

Awarded Siemens Award for AP

Our inquiry-based learning is one of the most important parts at SJA Jeju. It helps you have a deeper and better understanding of the matters that you question

- SJA Jeju 8th grade student
148, Global Edu-ro, Daejeong-eup, Seogwipo-si, Jeju-do
Introduction

USA

Opened in 2017 (Oct. 23)

Integrated school (kindergarten, elementary, middle and high school), Coed boarding school

68 classes

1,254 students (quota)
Grades

EC(Early Childhood, pre-K3~4 Kinder)

ES(Elementary School, G1~G5)

MS(Middle School, G6~G8)

HS(Hish School, G9~G12)
Curriculum

The same curriculum as the US school and AP program

US-Korea Exchange Program for Students and Staff

Student-centerd education base on inquiry projects(Reggio Emilia approach, STEAM program, Capstone curriculum)

AP (for university courses): 22 courses

Reggio Emilia approach : a teaching method that induces children's innate curiosity and interest in learning
STEAM program : Converged Programs Based on Science, Technology, Engineering, Arts, Mathmatics
Capstone curriculum : Capstone serves as the culminating and integrative experience of an educational program
Location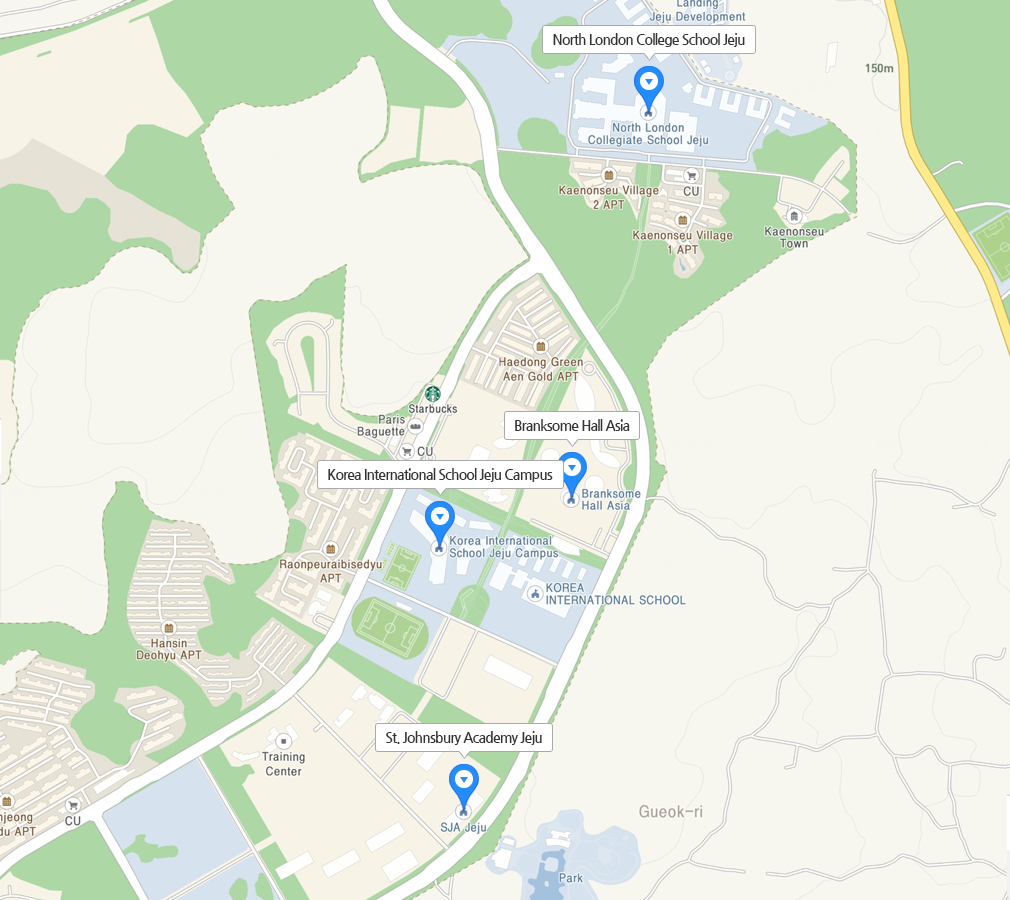 Facilities Photograph
Facilities(Attracting world-class schools,Convenient and safe urban environment,An eco-friendly city with natural envirionment)
Attracting world-class schools

• School Zone

Attracting world-class prestigious schools to provide high-quality education programs
North London collegiate School : Established 26th Sep., 2011
Korea International School : (Elementary·Middle) 19th Sep., 2011
(High) 19th Aug., 2013
Branksome Hall Asia : Established 15th Oct., 2012
St. Johnsbury Academy Jeju : Established 23rd Oct., 2017

• University Zone

Creation of multi-campus town by attracting world famous universities's degree courses and programs

Convenient and safe urban environment

• Residential, Commercial Facilities

Residential facilities for 4,660 housings
Commercial facilities for the convenience of residents

• English Education Center(Jul `14)

To support residents to use English as their daily life and teachers to study the field of English education

• Emergency call Center 119(Jul `14)

In charge of firefighting and emergency operation to secure the safety and security of residents

• Global Education City Support Office(Oct `11)

Supports general administration for residents

An eco-friendly city with natural envirionment

• Gotzawal Provisional Park

To preserve Jeju's natural environment and revitalize ecotourism