The Best Medical Complex
In All of Asia
Jeju Healthcare Town
Connected medical, tourism and research facilities Providing a global specialized medical environment
Business Overview
Around Donghong-dong and Topyeong-dong, Seogwipo-si
1,539,013㎡
2008 ~ 2018
Tourism complex and amusement park consisting of medical research facilities, foreign medical institutions, commercial facilities and accommodations, vacation and cultural facilities
Medical Industry Dept.
+82-64-797-5715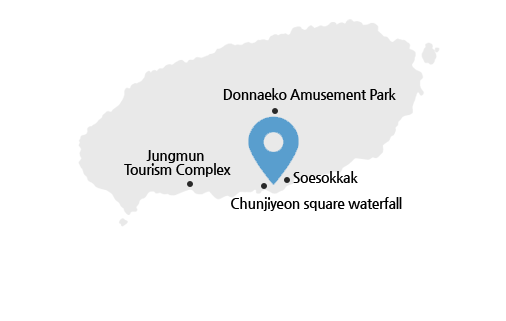 50 minutes from Jeju International Airport and 5km from the center of Seogwipo-si
Surrounded by Halla National Park, with a view overlooking Seogwipo downtown and Chilsipri Coast
Well located to create medical and tourism cluster in connection with tourism facilities nearby
Business Introduction
Vision forMedical Tourism Hub

With growing interest in health and healing around the world, changes are sweeping the medical tourism industry as well. Korea selected the industry as one of 17 new growth engine businesses in 2008, and has fostered the industry. Jeju Special Self-Governing Province has also made diverse endeavors to develop the medical tourism industry as the next-generation growth engine, by leveraging the natural environment and medical services.

Medical Complex with Healthcare and R&D Combined

Healthcare Town was selected as a key project in line with the Comprehensive Plan for Jeju Free International City in 2006, and we launched in 2008 the Healthcare Town project to develop a medical complex consisting of tourism, healthcare and R&D.

Great Opportunity to Gain Upper Hand in Global Medical Tourism Market

We attracted investment form Greenland Holding Group in 2011, and completed Phase 1 condominium in August 2014. Phase 2 project covering Healing Spiral Hotel, Healing Town, Wellness Mall and Healing Science Garden is now underway. At the end of 2015, we acquired the Ministry of Health and Welfare's approval for business plan on foreign medical institution (Greenland International Hospital), which will present a great opportunity for Jeju to gain the upper hand in the global medical tourism market.

Harmony with Local Residents

For the project implementation, we needed active support from local residents. To ensure effective collaboration and harmony, we spared no efforts to closely interact with the community by supporting them with daily necessity, holding hearings, offering volunteer medical services, and organizing family festivals. Every year we also have fun in cultural exchange events inviting foreigners living in the Healthcare Town, local residents, investors and related entities.

Healthcare Town: Jeju's New Growth Engine

The complex will start operation in full swing from 2018. The first foreign medical institution in Korea has been completely built and is soon to open, and steady preparation works are underway to start operation of other support facilities. JDC will contribute to creating new profits in Jeju by organizing medical tourism seminars and attracting leading medical institutions. Our efforts to take it to the global level beyond Korea will never stop.
Business Timeline
Facilities
Wellness Park
Recreational resort for leading happy lives through physical and mental health care
Provides various programs for preventive treatment, health care, and health promotion
Contains facilities to enjoy various experiences, such as outdoor and indoor recreation spaces
Medical Park
Professional hospital complex providing professional and specialized medical services
A retirement community with retirement and medical research activities
A town for older people requiring long-term care
R&D Park
Clinical research centers and new drug development research centers, such as the Medical R&D Center and Anti-Aging Center for developing technology and products in the medical service field
Greenland Holding Group of China

<Bird's-eye-view of Greenland Korea Project by Greenland Holding Group in Jeju Healthcare Town>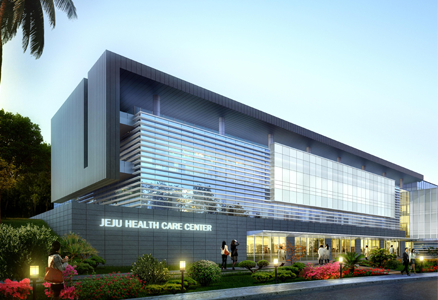 Founded in 1992, one of top 500 global companies, and state-owned company with the Shanghai Government owning the largest stake
Diverse business portfolio including construction, mining, finance, hotel, automobile service, energy etc.
Ranked 277th of Fortune 500 Global companies in 2017
Ranked 23rd of top 500 Chinese companies in 2017
Large-scale development projects underway in 13 cities (London, Sydney, New York etc.) in 10 countries
Major skyscrapers built in China
December 18th 2010: Nanjing Greenland Center (450m) completed
December 18th 2015: Suzhou Greenland Center (358m) completed
April 29th 2015: Beijing Greenland Center (300m) completed
November 20th 2010: Dalian Greenland Center (518m) construction started (to be completed in 2018)
July 1st 2011: Wuhan Greenland Center (606m) construction started (to be completed in 2017)
July 31st 2012: Chengdu Greenland Center (468m) construction started (to be completed in 2020)
Applicable Regulations to Medical Services
Article 306 to 319 of Special Act on Jeju Special Self-Governing Province and Development of Free International City
Ordinance on Special Cases etc. on Healthcare and Medical Services in Jeju Special Self-Governing Province

Article 4 Establishment of Medical Institution by Foreigner
Article 5 Establishment of Foreigner-Only Pharmacy
Article 6 Permitted Practice of Medical Personnel Not Exclusively Working for Medical Institutions
Article 7 Foreign Patient Referral and Placement Service
Article 8 Support and Development for Medical Tourism
Article 9 Subsidiary Business of Medical Corporations
Key Points
Article 307 Special Cases concerning Establishment of Medical Institutions
Foreigners can establish medical corporations subject to permission of the Governor (general hospitals, hospitals, dental hospitals and convalescence hospitals)
※ *Business plan submission → Approval of Minister of Health and Welfare → Deliberation of Health and Medical Policy Review Committee → Permission of Governor
Requirements for establishment are determined by Ordinance on Special Cases etc. on Healthcare and Medical Services in Jeju Special Self-Governing Province.
※ Article14 of Provincial Ordinance: capital of $5 million or over for corporations (corporation, limited liability company) and foreigner investment ratio of 50% or over (calculation of investment ratio is determined in line with Article 25-1 of Enforcement Decree of Foreign Investment Promotion Act)
Foreign medical institutions are not covered by health insurance.
Article 310 Special Cases concerning Acceptance of Practice by Foreign License Holders
Foreign license holders (foreign medical doctor, dentist, nurse, medical technician or pharmacist) may practice at a foreign medical institution or foreigner-only pharmacy, if the license holder meets the standards determined and publicly announced by the Minister of Health and Welfare.
Article 315 Special Cases concerning Permitted Practice of Medical Personnel Not Exclusively Working for Medical Institutions
Local medical personnel without their own medical institution may conduct medical practice at a medical constitution in Jeju Province, and may also conduct medical practice in other medical
institutions in Jeju Province even where they are employed by a specific medical institution.
※ *The same shall not apply to foreign doctor or dentist license holders.
Article 316 Special Cases concerning Scope of Subsidiary Businesses
A medical corporation that has established a medical institution in Jeju may perform subsidiary businesses prescribed by Provincial Ordinance.
※ Article 25 of Provincial Ordinance: tourism and accommodations business, laundry business, tourist service facilities business, international conference business, and private tuitions
Wellness Resort
Basis
Contents
Thailand chivasom
Claiming to be the world's best health resort as a shelter for life Holistic therapy based on oriental medicine as well as western spa therapy Customized program to heal both body and soul
Japan: Aso Farm Land, Forest of Life
Sport theme resort in forest (partnership with aerobic center of the US)
Popular for celebrities and sports players
US Canyon Ranch
Specialized resort complex for health and wellbeing (Arizona, 1979)
Revisit by 60% visitors
Vacation program for healthy life and refreshment
Targeting high-net-worth individuals in late 40s
Medical Tourism
Basis
Contents
Thailand Mayo Clinics
Visited by foreign patients from 150 countries around the world (40% of total patients and 50% of hospital revenue)
2,900 medical staff and 47,000 support staff
Collaboration with foreign medical institutions and developing countries
Thailand Bumrungrad International
Accredited medical services (JCI)
Selected as one of top 10 global hospitals by Newsweek
Run by professional multinational business management (established in 1980)
India Apollo
8,000 beds in 41 hospitals across Asia
Mega-hospital group with ₩1 trillion in total revenue and ₩60 billion in net profit in 2016
R&D Park
Basis
Contents
Kobe, Japan: Medical Industry City
Concentrated on R&D industry, the core of medical industry
Established the medical industry hub of Asia based on innovative medical technologies
Rejuvenated sluggish local economy and created efficient network
Consolidated advanced research facilities and hospitals by attracting prestigious medical institutes
Australia Bio 21
Bio-technology research including human life span extension
Established in University of Melbourne, Australia (4 alumni won Nobel Prize)
$100 million investment with 450 researchers employed