Myths and History Theme Park
World-Class Tourist Complex
Opening of New Era for Jeju Tourism in World's Class Tourism Complex Where Culture, History and Myths of Jeju, Korean and the World Exist in Harmony
Business Overview
Seogwang-ri, Andeok-myeon, Seogwipo-si, Jeju-do
3,985,601m2
2003 - 2021
AA district (Complex resort including world theme park and accommodations),
R district (Asian resort and myth, historical street),
H district (European resort and myth, historic street),
J district (Aerospace Museum, Myths and History Theme Park, etc.)
Tourism Industry Dept
+82-64-797-5773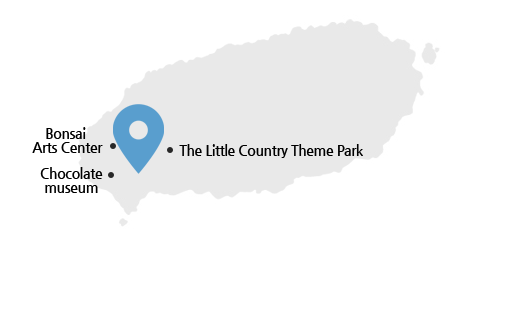 About 40 minutes from Jeju International Airport, 15 minutes from Jungmun Resort
Easy to activate by nearby tourist sites such as Osulloc, Hanlim Park, Mt. Sanbang, and the English Education City
Business Introduction
Culture of Jeju Becomes Themes for Tourism

Jeju Island is full of unique myths and legends in every town, valley, mountaintop and coast. We have been implementing a project to build Jeju Myths and History Theme Park to tap into stories of 18,000 gods, history of strife, myths, legends and other historic aspects as sources of tourism. The localized composite tourism complex will be a high-value-adding tourism spot, improving quality of tourism industry of Jeju and serving as a bridgehead for global competitiveness.

Korea's Largest FDI of $1.5 Billion after 14 Failed Attempts

After 14 failed attempts to attract investment for past 11 years, finally in August 2013, we signed MOA with Landing International Development Limited on Development of Jeju Myths and History Theme Park Block A, R and H, and incorporated Landing Jeju Development Ltd. to develop the project. We also signed agreement on project and land purchase, achieving the largest foreign direct investment of $1.5 billion (as of 2017) in Korea's tourism industry.

Myths and History Theme Park Embracing the World

It is a theme park featuring myths and history of Jeju, Korea, Asia and Europe, and a composite tourism complex with culture, tourism, vacation and food mixed together. Built on a land area of 1.2 million pyeong in Andeok-myeon, Seogwipo-si, the park is divided in Block A, R, H and J. On the A, R and H blocks, Jeju Shinwha World will be developed by Landing Jeju Development Ltd., whereas Block J will host a theme park featuring Jeju's myths and history. The total project cost is ₩2.41 trillion.

Mutual Growth: Best Practice of Job Creation

In addition to successful project development, JDC focused on developing a mutual-growth model for the local community under the Myths and History Theme Park development project. We signed an agreement on mutually-beneficial growth among JDC, the local community (Seogwang-si) and the investor (Landing Jeju Development) as a way to give priority to local residents to be hired for maintenance services in the resort complex of Jeju Shinwha World. For the construction as well, we guaranteed local construction companies could be hired as contractors for over 50% of the construction process, so that ₩567 billion (as of 2017) worth of construction orders were assigned to local companies. In addition, for the opening and operation of Jeju Shinwha World, jobs for 5,000 workers were directly created, by giving priority to local residents who take up 80% of staffing needs. Likewise we've steadily pursued mutual growth on many fronts.

Next Steps for Myths and History Theme Park

Block A, R and H of Jeju Shinwha World have opened and in operation for Phase 1, with full opening scheduled in 2019. Block J developed by JDC will soon be filled with creative and exciting contents. Bringing in a new wave for tourists, the Myths and History Theme Park will serve as an extraordinary landmark in Asia and beyond.
Business Timeline
Guide by District
To create the best complex resort in Northeast Asia with core theme of world and Jeju Island's myths, history, and culture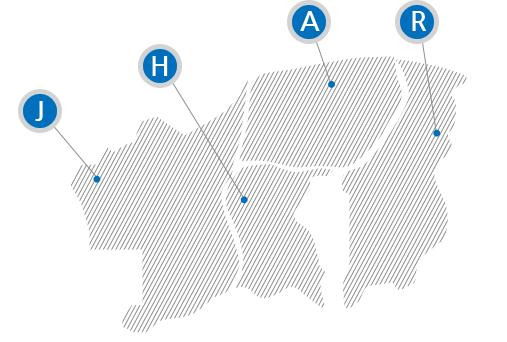 J

District
1,465,972㎡
Created a theme park of differentiated traditional culture reflecting the traditional culture of Korea and the myths and history of Jeju Island
H

District
597,928㎡
Established European condos, resort cultural facilities and sales facilities utilizing a Mediterranean theme and Nordic atmosphere
A

District
895,984㎡
Established recreational cultural facilities and theme park providing world culture experience as a central space of Myths and History Theme Park
R

District
1,025,715㎡
Established oriental-themed luxury condominiums, recreational cultural facilities, sales facilities and accommodation facilities based on an oriental culture theme